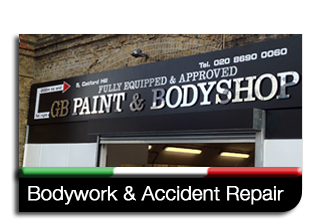 Bodywork & Aftercare
Unfortunately, accidents do happen. It may not be your fault but, one day, your car may be in need of professional repair. You'll be faced with an important decision. Who will repair your car back to its original condition?
As the vehicle owner, the choice of where your car is repaired is yours and you are only required to obtain one repair estimate, at Gonnella Brothers we offer FREE ESTIMATES, we can then work with your insurer who must meet all reasonable costs of repair. Settle for nothing less than the highest standards - insist on Gonnella Brothers

Based from our new new extended
workshop & body shop unit with our fully trained technicians
we are fully equipped and approved to deal with bodywork, crash repair and full resprays for all makes and models of vehicle.

When you choose Gonnella Brothers to repair your vehicle you will also benefit from FREE RECOVERY.
Throughout the repair process only Genuine Parts are used, thereby maintaining the safety and integrity of your car. We recommend you fit genuine parts as they are the only ones built to the exact specifications of your car's original components. In addition, all materials and water based paints used are solvent free and are therefore environmentally friendly.

When ready for refinishing, your car will be thoroughly and skilfully prepared before the priming and repainting processes begin. The use of advanced paint systems allow for a high quality of finish to be achieved, while low bake drying ensures ultimate durability. Careful reassembly of your vehicle takes place prior to extensive quality checks and testing. Your car will then be cleaned and returned to you in pristine condition.